NBCC (India) Limited, formerly known as National Buildings Construction Corporation Limited, a government-owned construction enterprise, has secured a contract worth Rs 229.81 crores to build a new campus for the Indian Institute of Foreign Trade (IIFT) in Kakinada, Andhra Pradesh. The awarding of this project to NBCC by IIFT is a crucial milestone in the growth of IIFT in India. This new campus is expected to cater to the growing demand for international trade education and research in the Country.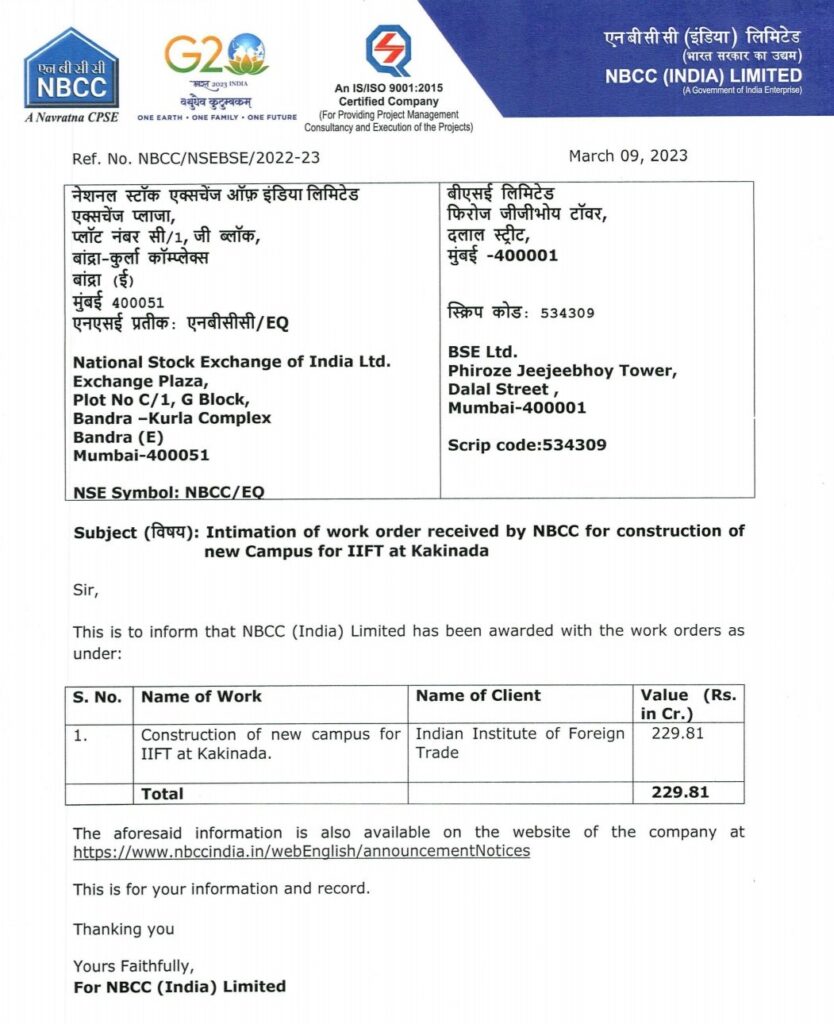 The new campus of IIFT will be spread over an area of approximately 25 acres and it is believed that it includes academic buildings, administrative buildings, student hostels, faculty housing, and sports facilities. In addition to educational facilities, the new campus will also provide a range of sports, recreational facilities, and a dedicated space with state of the art Auditorium.
IIFT's new campus in Kakinada is expected to provide a boost to the local economy by creating job opportunities and attracting students from across the region.
About IIFT:
The Indian Institute of Foreign Trade (IIFT) is among the most highly regarded institutions in India, known for its exceptional learning and campus recruitment. It has three campuses in New Delhi, Kolkata, and Kakinada, committed to quality and excellence, providing education in Business Administration/Management.
About IIFT Kakinada:
In 2018, the then Union Minister for Commerce and Industry Suresh Prabhu laid the foundation stone for the third campus of IIFT in Kakinada. The state government allocated 25 acres of land in Kakinada Special Economic Zone (K-SEZ) for the construction of the campus. While, the IIFT in Kakinada is currently operating at its temporary campus in Jawaharlal Nehru Technological University (JNTU), Kakinada. Later In 2022, The Ministry of Commerce and Industry has already granted ₹230 crores for the construction of the IIFT-Kakinada campus.
How it benefits Kakinada?
The construction of IIFT's new campus in Kakinada by NBCC India Limited is a significant development that will improve the growth and development of the region. The campus will offer various academic programs with international standards and serve as a hub for research and consultancy services related to international trade and commerce.