We all know that Kakinada is one of the major contributors for our Andhra Pradesh Industrial Sector, Which includes both nationally & internationally reputed Industries from various sectors like Agro−products, Edible oil refineries, biofuel plants, IT/ITES, Power generation, Natural gas and petroleum.
And to uplift the total face of our Kakinada's industrial sector's growth, GMR owned Kakinada Special Investment Region (KSIR) formerly called as Kakinada Special Economic Zone (KSEZ) is rapidly growing with Many international manufacturing industries.
About GMR Kakinada- SIR :
Kakinada Special Investment Region (KSIR) is located in Kakinada, stretching to various parts of east godavari and a part of Visakhapatnam – Kakinada Petroleum, Chemical, Petro-chemical Investment Region (VK-PCPIR), an Investment Region owned by Government of India that aims to attract heavy industries of oil and natural gas sector that utilizes the Oil & Gas reserves in the Krishna–Godavari Basin.
KSIR is spread in over 10,000 acres, which is a port based industrial park with Special Economic Zone category. The Project would cater to the existing industries at Kakinada, mainly Food Processing, Refinery & Petrochemical, Renewable Energy, Ship Building, Biotech, Nanotech, IT/ITEs, Toys, Games and Sports Goods manufacturing industries etc.
Master Plan of K-SIR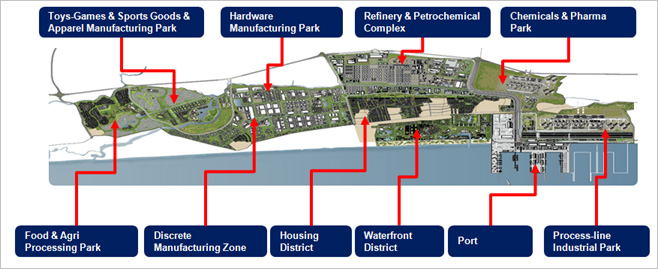 Location Advantages
KSIR is located in the region with most literacy ratio ie East Godavari District, making it an advantage to the local people with abundant skills. It is also having the best connectivity channels through all modes of transportation. Other major advantages includes:
KSIR is on the Vizag-Chennai Industrial Corridor
12 Kms to the nearest National Highway
10 Kms to the Rail network (Chennai – Howrah Rail line)
Upcoming dedicated port in KSIR in 2 Kms
Existing Kakinada Deep Water Port – 20 Kms
Nearest Airports at 55 Km Rajamundry and 160 Kms (Vishakapatnam)
Currently Established And upcoming Industries in SIR
Currently at KSIR, Pals Plush A leading toy manufacturer, supplier to US based HASBRO, spread across the area of 1,00,000 sq.ft with more than 600 employees. Many international companies have expressed their interest and are in various stages in establishing their units at KSIR.
Tata Business Support Services (Tata BSS)
A Rural MNC BPO centre for the educated rural youth in association with TATA Group for the development of nearby villages. Currently Tata BSS provides employment for more than 50 and are in process of recruiting further more employees.
Upcoming Industries at KSIR
Oil Country Tubular Limited (OCTL) is a processor of a wide range of Oil Country Tubular Goods required for the Oil Drilling & Exploration Industries like Reliance, ONGC, GAIL, BPO etc. OCTL intends to setup world class processing and threading plant facility at Kakinada SEZ in an area of 50 acres.
Government of Andhra Pradesh and HPCL-GAIL Consortium signed an MOU for setting up a petrochemical cracker complex in 2000 acres of land of Kakinada SIR (KSIR), with a proposed investment of Rs. 40,000 Cr.
Furthermore the company has Signed MOU's with
DCM Shriram for setting up integrated Poly Vinyl Chloride (PVC) plant in 200 acres.
Deepak Phenolics for setting up a plant to produce Cumene – Phenol and Acetone & Propylene Oxide in 100 acres.
Chemplast Sanmar to set up a Vinyl Chloride Monomer plant spread over 50 acres, which could create employment opportunities to 350 people.
Kamineni Steel and Power India Private Ltd to set up a steel billet manufacturing facility in 100 acres.
United Seamless Tubular Private Ltd to set up a Seamless Pipe manufacturing facility in 100 acres.
JGC Corporation (JGC), Japan for setting up Japanese Oriented Agri & Food Processing park in 300 acres.
Yingrong Group, Shenzen, China engaged in Infrastructure, Industrial and Urban development for setting up chinese industrial park in an area of 500 acres.
CSR by GMR in KSIR Region
KSIR has also carried out various Corporate Social Responsibility activities through GMR Varalakshmi Foundation like
Establishment of a 8 bedded hospital with a free facilities
A mobile medical unit to conduct health camps in the nearby villages
Constructed a modern school in collaboration with Sarva Shikhsa Abhyan
Established a Rural BPO centre for the educated rural youth in association with TATA Group for the development of nearby villages.
The company also imparts skill inducement & enhancement training to rural populace without any cost to them through its vocational training centers.
KSIR has constructed 1,000 houses for the project affected people with social infrastructure which has also been declared as a separate panchayat by Government of Andhra Pradesh.
Hope the major industries across the globe will take part in setting up their industries in our KSIR and generates huge employment in the region thus boosts the Kakinada city Development & growth in the State.
Source: GMR, Internet